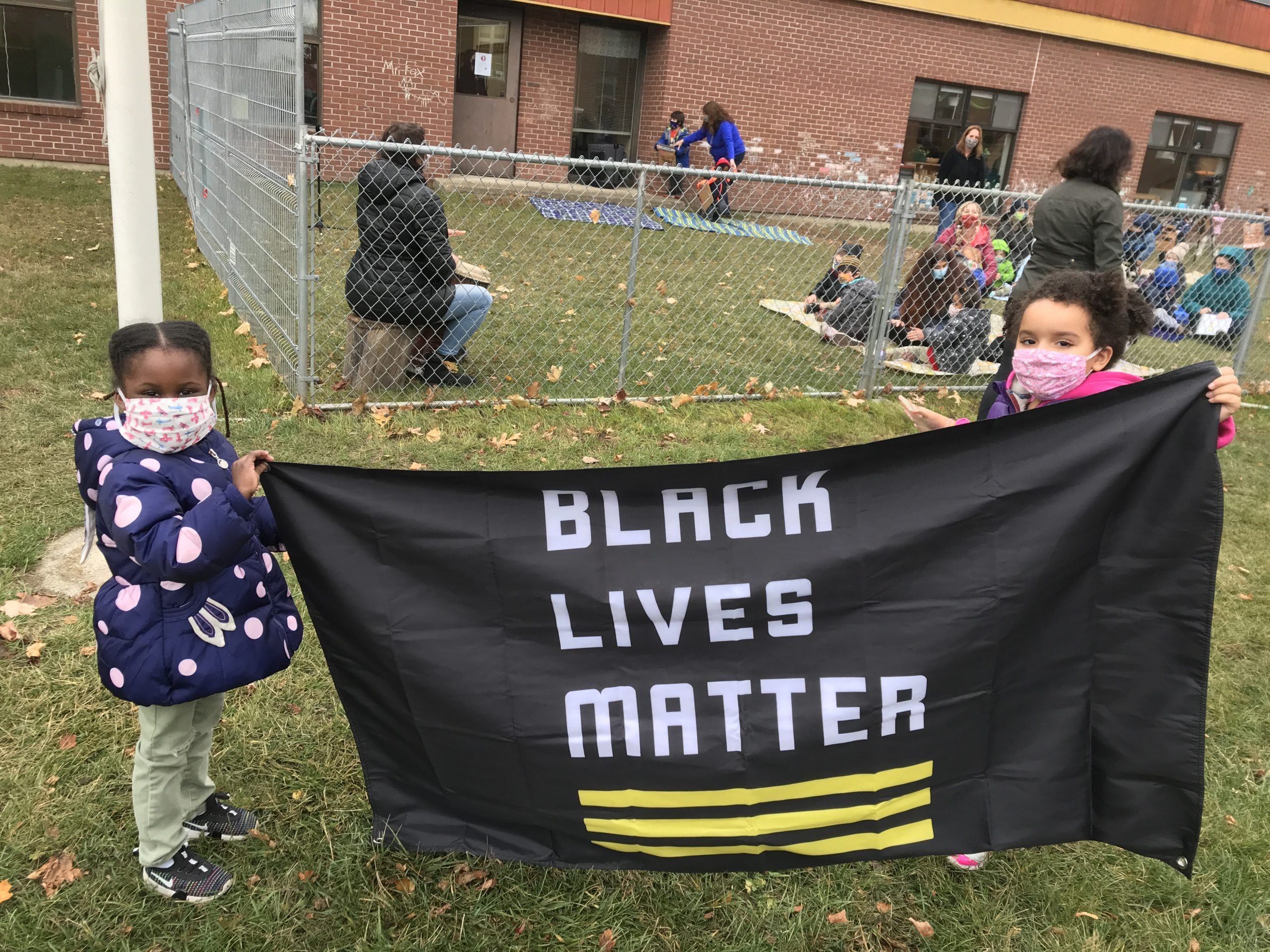 Students to Lead Ceremonies Throughout November and December –
By Autumn Bangor and Russ Elek
In July, the Burlington School District (BSD) joined the City of Burlington and other community partners in declaring Racism a Public Health Emergency. As part of the announcement, BSD committed to flying the Black Lives Matter flag at all school properties. On Tuesday, September 15, 2020, the Burlington Board of School Commissioners passed a resolution to support this effort and this November and December, all students at all BSD schools, as well as several community partners, will begin the process of raising the flags in small, private ceremonies. The work began on Friday, November 13 when students raised the flag at BHS, CP Smith, and Ira Allen PreSchool.
"The raising of the Black Lives Matter flag symbolically represents the commitments of allyship, anti-racist practices, diversity and inclusion, justice, and equity set forth by Burlington School District," said Superintendent Tom Flanagan. "This is a great symbol of equity, but it is only a starting point. I'm proud of our principals and teachers who have taken the opportunity to connect these flag-raisings directly to classroom curriculum and learning. By having students involved in the ceremonies and age-appropriate conversations around race and equity, we can ensure that the flags are truly an outward representation of what is happening inside our schools."
BSD's Office of Equity has spent the last several months working directly with students, teachers, and administrators to embed anti-racist curriculum and assist schools in raising the flag. They also developed Black Lives Matter FAQ to share with staff and community.
Because each school's ceremony will be student-led, no two will look alike. Some will feature speeches, readings, or artwork, others will feature students singing or participating in drum circles, and one school will even feature a live performance from A2VT. Though every ceremony will look different, all will be rooted in themes of social justice, anti-racism, and equality. Schools are supplementing the events through classroom activities such as creating Black Lives Matter-themed artwork, crafting anti-racist statements, holding class-wide discussions, and utilizing Restorative Practices techniques such as community circles and one-on-one check-ins.
"We are living in a historic moment of racial reckoning as we watch our country come to terms with its history and present while living within the dual pandemics of racism and Covid-19 and the disproportionate impact on BIPOC communities," said BSD Director of Equity, Sparks. "Systemic racism and racial injustice have a presence in our everyday lives, continuing to foster fear, trauma, and inequity, while undoubtedly denying our neighbors and fellow community members who are people of color their most fundamental rights. We at BSD strongly denounce racism in all its forms and we are dedicated to examining our practices, policies, and procedures in order to eradicate systemic racism in our school community. We believe Black Lives Matter and stand in solidarity with Black students, faculty, and staff, and we are grateful for the efforts of Burlington High School and Edmunds Middle School students who helped open our eyes and pave the way by working to raise the BLM flag at their schools."
Sparks noted that student activists have long been asking for racial injustice to be recognized at the BSD. In February 2018, BHS Social Justice Union activists petitioned the BSD School Board to raise the Black Lives Matter flag at BHS, becoming the second school in Vermont and the second school in the nation to do so. The following year, EMS students, with the help of the University of Vermont-supported Youth-led Participatory Action Research group successfully petitioned to raise a BLM flag on the Edmunds campus.
"As our nation grapples with anti-Black violence, we recognize that systemic racism has persisted in our nation for centuries and we acknowledge the part that schools play in ending this plague," Superintendent Flanagan added. "There is much work to be done and while the flag's symbolism is important, our solidarity must be backed by actions such as the ones happening in our classrooms today."
Due to COVID protocols, this year's ceremonies will be smaller and will not be open to the public. However, many of the ceremonies will be captured through videos and photos and shared through school and District social media and newsletters in the coming weeks. RETN at the Media Factory will also work with the District to create a video showcasing efforts across the District. The public is encouraged to tune into the District's Facebook, Twitter, Instagram, and YouTube accounts to see footage from the events.